TransPac 2019-Pyewacket

While the 2019 Trans Pacific Yacht Race was the 23rd consecutive for Pyewacket owner Roy P. Disney, this was a special race. It was the 50th anniversary of the iconic race, with 92 yachts competing. On July 13th , we left the dock in Long Beach with aspirations to win. As fate would have it, our mission this year, would be of a higher calling.

After a slow first day, fighting the light southeasterly winds of a Catalina Eddy, we finally got the northwesterly gradient winds around 15:00 on Sunday the 15th and started hitting speeds of 12 knots on a heading of 220.

As night fell and a full moon rose on the cloudless sky, the wind increased to 18-20 knots and the boat speed rose to 15 knots. We were sailing with a reefed Mainsail, Genoa staysail and Blast Reacher as we passed into the early hours of Monday.

At 01:55PDT, Monday July 15, a distress call was made to the US Coast Guard by the yacht OEX, on channel 16. Onboard Pyewacket, Ben Mitchell, who was getting dressed for his watch, heard the call and asked out navigator Tom Addis to check on the location of OEX. We soon found out that the sinking yacht was just 3 miles and almost directly ahead of us.

In an instant, and without hesitation, our mindset shifted from full race to full rescue. At 15 knots of boat speed, the target would be just 12 minutes ahead. It was dark and fairly windy. There was a lot to do.

A flare went off and we could see the strobes from life rafts containing our fellow competitors.

A crew of veteran ocean racers, we slowed our boat, dropped, flaked and lashed down all three sails, We made sure all lines were out of the water before starting the engine. Doing any of the above tasks incorrectly could have rendered us useless as a rescue vessel.

As we pulled up alongside and to leeward of the two rafts, we immediately asked if all of the crew were accounted for. They were. We proceeded to board the 9 sailors. We then recovered and stowed their two life rafts. The speed with which we executed the rescue made it seem benign. 

Just 100 meters away, with it decks now awash, the sinking yacht, with its mainsail haplessly flapping in the darkness, looked like a ghost ship.

10 minutes after arriving on the scene and with all onboard, we asked if any of the crew were injured or hypothermic. While all 9 were in good condition, some had been waist deep in water trying to plug the giant hole in the hull where the rudder had parted company with the yacht. We got them down below and offered some dry clothes and hot drinks. 

The crew of Pyewacket maintained its watch system to operate the yacht in a professional an orderly manner, albeit toward a new destination.

The Coast Guard asked Pyewacket if we were capable of getting our entire charge back to Los Angeles safely to which we responded in the affirmative. Approximately 24 hours later Pyewacket docked at Windward shipyard in Marina Del Rey with 19 souls onboard. Several of the OEX spouses were there to greet their men and all were very appreciative of Pyewacket's efforts.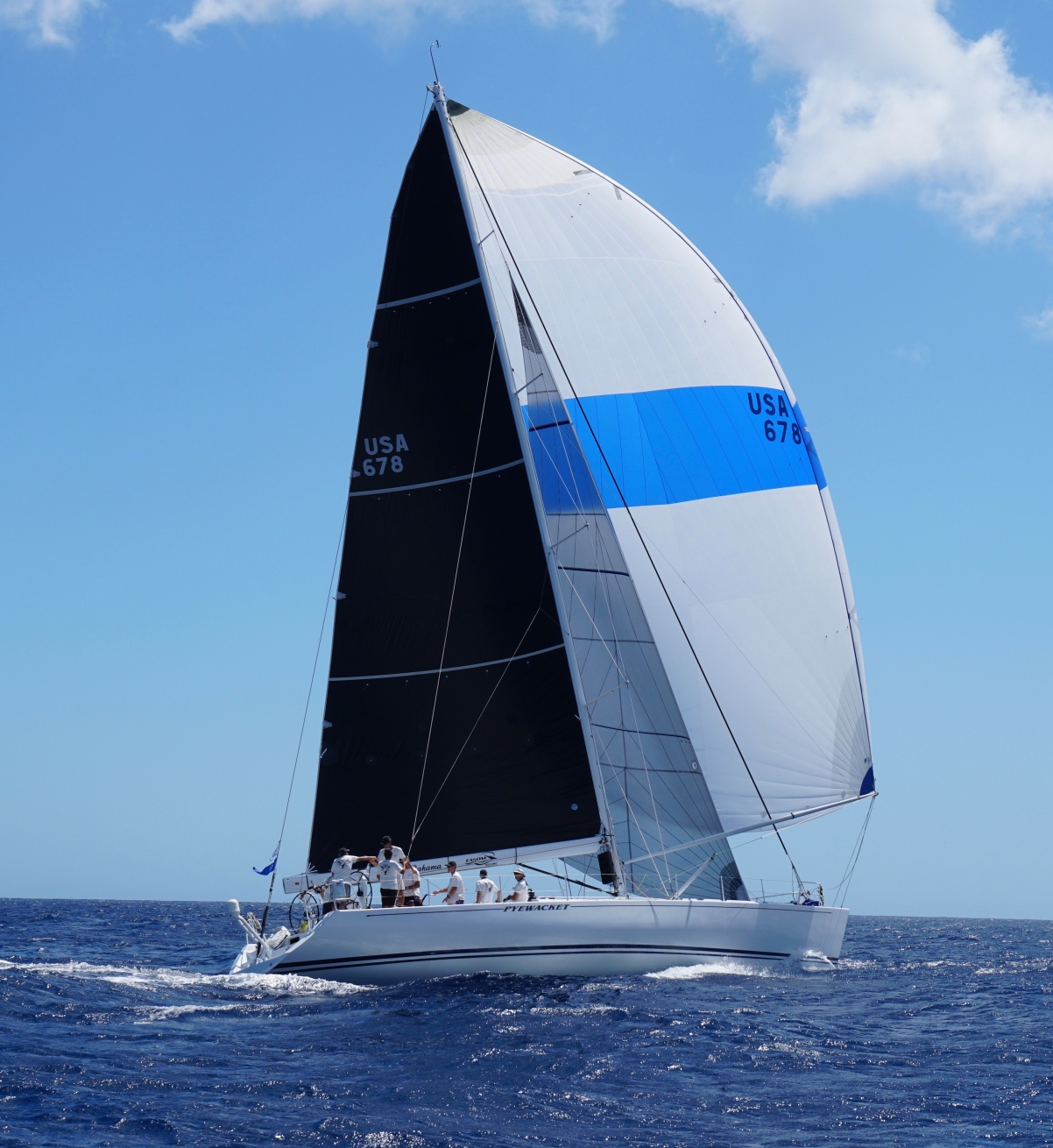 In Summary
Fundamental Rule #1.1 of Sailing states: A boat or competitor shall give all possible help to any person or vessel in danger.
The very experience that we on Pyewacket were planning to put to use to win a race got put to use for a much higher purpose.
Rather than sharing a trophy we, the crew of Pyewacket 2019, share a strong sense of camaraderie, honor and pride in rendering assistance to fellow competitors in peril. There is no greater calling as a sportsman!

Pyewacket crew:
Roy P. Disney
Gary Weisman
Ben Mitchell
Tom Addis
Scott Easom
Brad Jackson
Mark Callahan
Mark Towill 
Robbie Kane
Paul Cayard 
https://cayardsailing.com/wp-content/uploads/2019/07/IMG_6141.jpg
1365
2048
Paul Cayard
https://cayardsailing.com/wp-content/uploads/2015/01/cs_Logo-07.png
Paul Cayard
2019-07-18 16:29:31
2019-07-18 16:29:33
2019 TransPac