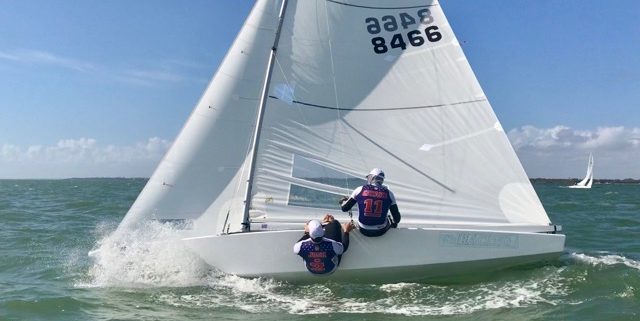 Photo by Kathleen Tocke
Coconut Grove
More perfect sailing conditions were on deck for the Star Sailors here in Miami….. 12 knots from the southeast all day, with some shifts, some not so subtle.
In the first race, Josh and I had good start up near the Committee boat (right side). We took a short tack to the right, got headed, tacked back to starboard, crosses the entire fleet and never looked back. Jack Jennings, the series leader was over the start line early and disqualified so that helped the rest of us catch up in the series. Eric Doyle, world champ from 1998 sailed well to finish second.
In race two, Josh and I had a good but conservative start given the black flag was up. (If you start early with the black flag up, you are disqualified, no chance to restart)
We flipped onto Port about a minute after the start, and with good speed led the fleet to the right. All the leaders were trying to get right, but some had bad lanes and had to tack out to the left to clear their air. I really thought the wind was in and steady and since we had a nice clear lane, we kept it simple and sped to the right. As we approached the right corner, the wind turned 10 degrees left.  Too much leverage!  We ended up 20th at the first mark and the runs became parades as the course was not adjusted.  No chance to pass.  Up the second windward leg, I sailed stupidly and got us out to the left and stuck in traffic.  We battled Augie Diaz/Bruno Prada all the way around the track..they finished 12th and we finished 15th.  Arthur Anosov with Dave Julius Caesar crewing, sailed a great race to take the win!   Jennings and Kleen did a good race and finished second and my good firiend and fellow SF Bay Star sailor, Doug Smith with Brian O'Mahoney crewing, finish 3rd.
The Irish team of Peter O'leary and his brother Robert O'Leary have sailed steadily and are now comfortably in the lead with 30 points. Augie Diaz and Bruno Prada are second with 44 points and Josh and I have moved up to 3rd with 53points.
Two more races are in store for us tomorrow and the forecast is basically the same…beautiful sunshine, warm water and 22 knots of balmy southeasterly wind.
For complete scores go to www.yachtscoring.com.
Paul
https://cayardsailing.com/wp-content/uploads/2018/02/2A0B6D60-77C4-430D-A2D2-E8BF44CFE4D2.jpeg
374
640
Paul Cayard
https://cayardsailing.com/wp-content/uploads/2015/01/cs_Logo-07.png
Paul Cayard
2018-02-10 13:55:30
2018-02-10 13:55:30