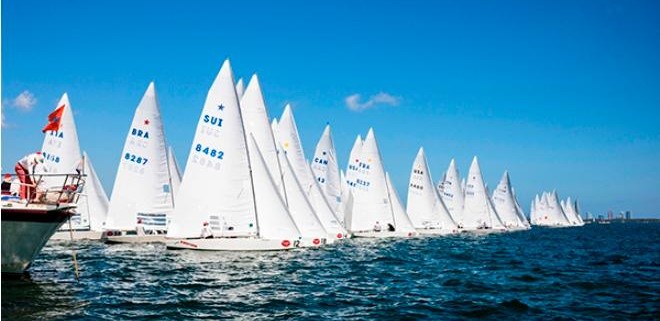 Coconut Grove
Very light winds awaited the Star fleet today. The race committee started on time with about 4 knots of wind from the southeast.  We had one general recall then the Black Flag.
It was very spotty out there so at times you looked pretty good then the wind would die where you were and you wished you were on the other side of the course.  Brian and I rounded the first mark about 15th and sailed decently downwind.  Maybe even passed a few boats so that's a win of sorts.  However, up the second windward leg, we went hard right and the left was the place to be.  It was so light that tacking frequently wasn't an option and there were just enough teasers in the right to keep us going.  But in the end, the left came good and we dropped about 10 boats.  Down the final run we did manage to pass about 5 boats, again, a lot better that the last few days.
Our 23rd place will not get us any pickle dishes, thats for sure.  We have now dropped to 11th over all.  Arthur Anosov won the race by a huge margin of 5 minutes.  He got left on the second windward leg and hit it hard.  Alessandro Pascolato (BRA) finished second.  Alessandro is sailing a boat I sold him and doing very well in the regatta in 6th place.
The regatta leaders finished 33rd in this struggle.  That is their discard so they are still leading.  Lars Grael also sailed his worst race today but remains in second place overall.  The two are separated by just three points so it will be all on tomorrow for the Bacardi Cup winner.
Tomorrow's forecast is for a nice 12 knot north easterly.  Should be pretty shifty.
For complete results go to: www.yachtscoring.com
Paul
https://cayardsailing.com/wp-content/uploads/2015/03/Star-Start.jpg
441
660
Paul Cayard
https://cayardsailing.com/wp-content/uploads/2015/01/cs_Logo-07.png
Paul Cayard
2015-03-06 22:55:03
2015-03-06 22:55:03
Bacardi Cup-Day 5