Diego Negri and Sergio Lambertenghi of Italy
Coconut Grove
The final race of the 91st Bacardi Cup was held today in 14-18 knots of wind from the south east.
Mark and I got off the starting line well and were amongst the top teams approaching the first mark.  We rounded second behind Robert Scheidt, with series leader Diego Negri in 6th.  All the top teams were in the top 8 so no big shuffling of positions, overall, was going to happen.
Negri who got forced to gybe right at the top mark, layed the bottom mark due to the windshift and moved into third place and safety for the overall.  Ian Percy also gybe early and moved into second.  I misjudged the layline to the first bottom mark and we slipped back to 6th.
We were fighting with Xavier Rohart of France and Luke Lawrence up the second windward leg. At the final mark before the run to the finish, Sheidt still led followed by Doyle, Percy, Negri, Lawrence, ourselves and then Rohart.
We played the right side of the run with Percy/Ekstrom while the others gybed away to the left. We had more wind and ended up 3rd and Percy caught Scheidt to win the race.
In the end, Mark and I tied for fourth with Lars Grael but lost the tiebreaker to finish the regatta in 5th.  That's not a bad result in this fleet. 7 out of the top 10 are Star world champions.  I made a few too many mistakes this week and that costs points. I felt our speed was good and we got better together as the week went on. There definitely is something to sailing with the same team mate.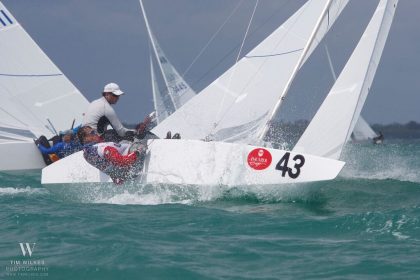 Negri and Lambertenghi won their first Bacardi Cup, Scheidt/Fatih second, current World Champions Melleby/Revkin we're third.
A big part of this week for me was honoring my good friend Sir Durward Knowles. I sailed with 4789, the number of his Gold Medal boat Gem IX, from the 1964 Olympics and with bow number 64 in honor of 1964. I want to thank Bacardi and all the competitors who helped honor Sir Durward on Monday.
For complete results go to www.yachtscoring.com
I am flying to St. Barth's tomorrow to join Rosehearty for the Bucket.  I will write reports from there next weekend.
Paul
https://cayardsailing.com/wp-content/uploads/2018/03/3C85AC6D-584C-4D59-8791-268FBB326977.jpeg
682
1024
Paul Cayard
https://cayardsailing.com/wp-content/uploads/2015/01/cs_Logo-07.png
Paul Cayard
2018-03-10 17:31:59
2018-03-10 17:35:22
Bacardi Cup Final