Photos by Marta Rovatti Studihrad
Riva del Garda
Five more races we held over Saturday and Sunday for the J70, Alcatel Italian Circuit Championship.
The conditions continued to be challenging on Saturday, in that they were not classic Lake Garda.  Saturday featured light winds where the left side of the course paid hugely most of the time. Today, with an 08:00 first start, we finally got a strong northerly wind called Peler, that does typically blow in the mornings here. This was good training for San Francisco.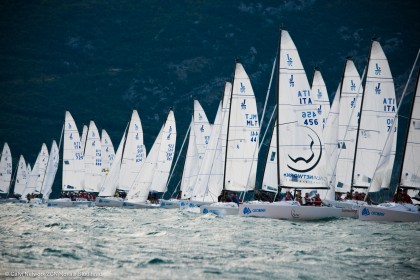 Not much changed in the scoring with the Italian team named L'elagain, dominating the series winning with 31 points..  It was noteworthy that even when this team got behind on the first lap, they had trouble digging themselves out, thereby scoring a 21 and 18 in two of the races.  Second place, with 44 points went to Petite Terrible with 22 year old Claudia Rosi, European J70 Champion, at the helm.  We, with Calvi Network, finished third with 46 points.  That is a fairly high score for 7 races but is indicative of how competitive the fleet here is.
For us, onboard Calvi Network, this was our first time sailing together as a team.  I am the only "new" person to the team but still that is a 25% crew change. The four of us who sailed together here, will race in the World Championship, later this month, in San Francisco. This week was fundamental for us, mostly me, to learn how to sail on a J70 with this fantastic team.  The front of the boat is quite physical and it certainly will be in San Francisco.  I love when sailing becomes physical and am really looking froward to the challenge of the World Championship in my hometown.
The side of Lake Garda has shear walls in some places which are good for other sports.  Check out the rock climbers, off our bow, in this photo.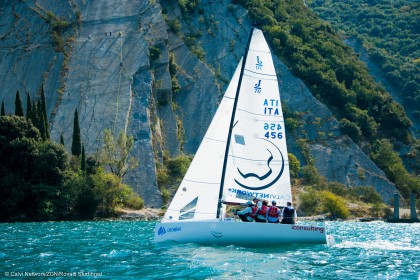 For complete results go to http://www.fragliavelariva.it/sites/default/files/regatta/r2042-result-f4662.htm
Tonight I am headed to Mahon to join my team on Phoenix for the TP52 World Championship.
Paul
https://cayardsailing.com/wp-content/uploads/2016/09/Calvi-Network-Riva-del-Garda_MGR2038.jpg
1010
2000
Paul Cayard
https://cayardsailing.com/wp-content/uploads/2015/01/cs_Logo-07.png
Paul Cayard
2016-09-11 16:05:39
2016-09-11 16:05:39
J70 Lake Garda Final