Quantum Key West Race Week-Day 3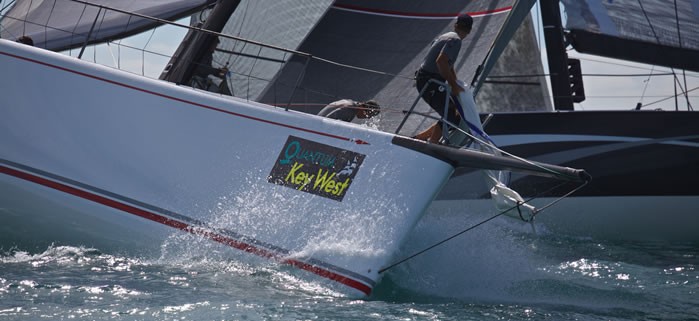 Photo: Steve Lapkin
Key West
January 21, 2015,
With a forecast that was too light to race, the wind gave us a pleasant surpass, and we managed to get in two races today.  The wind came in at 6-8 knots from the north-northwest around 11:00 and the race committee was quick to jump on it.
In the first race, we had a relatively minor collision with Bella Mente at the start but it was our (my) fault and we had to do a 360 penalty turn.  That cost us about 45 seconds.  Shortly there after, Bella Mente ran into a wreck that is on the course and marked with a government buoy.  They just went too close to the buoy.  A bit surprising, really. With all of that going on, Numbers won the first race rather easily.
In the second race, which started in just 6 knots of wind.  We on Shockwave, had a very good start to windward of the group and were able to control the fleet out to the left and lead at the first mark.  From that point, it was about managing our lead and trying not to mix it up with Bella Mente and yet stretch out on the smaller Numbers.  We owed numbers 2:49 in that race and only beat them by 2 minutes.
So numbers had 2 wins today, we on Shockwave two seconds and Bella Mente a 4th for not finishing the first race and then a 3rd in the second race of the day.
So now, the three of us are all within one point as we head into the last four races.  As we are today, we would loose a tie breaker to either of the other two so we need to be a point clear ahead to win.
We have been working all week on our performance and we feel that we are getting better each day.  I must say that I haven't done a very good job so far so I am determined to right that tomorrow and Friday.  We will need to be clicking on all cylinders to win this class!
For complete results go to www.yachtscoring.com
19:00 UPDATE: I just went to yachtscoring.com myself and saw that Bella Mente asked for redress for both races today, based on their running into the wreck. Hard to imagine. Whats more, the jury award them redress for each race.   They gave them a 1.25 score for each race rather than the 4, 3 that they scored. What could be the basis for that decision? I could not find any "facts found" issued on the official jury notice board.
So get this; you are sailing along, no other boat within 200 meters of you, you run into something and tell the Jury it was someone else's fault?  The wreck is marked by a government buoy!  It is marked on the navigational charts! Further, the race committee has warned the fleet about it each day before racing. Never heard of anything like that.  I don't know what is more unbelievable; the asking or the getting.
21:00 FURTHER UPDATE
I am now told the Jury is reopening the hearing in the morning.
Paul
https://cayardsailing.com/wp-content/uploads/2015/01/ShockwaveNumbers.jpg
466
699
Paul Cayard
https://cayardsailing.com/wp-content/uploads/2015/01/cs_Logo-07.png
Paul Cayard
2015-01-22 03:16:54
2015-01-23 22:45:22
Quantum Key West Race Week-Day 3