Rolex NYYC Race Week-Final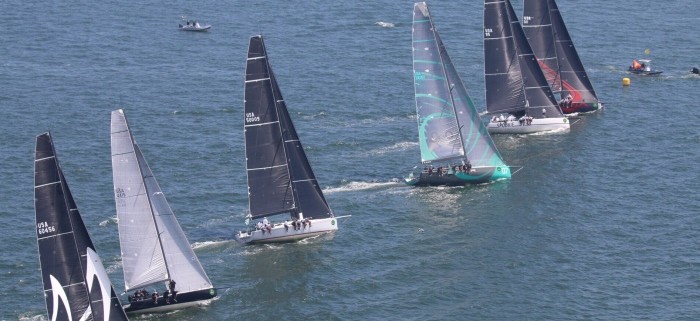 ---
Photo by Daniel Forester-IRC 1 start
Newport, Rhode Island
The wind was very late to fill in today leaving just enough time for one race. At the start we had 8 knots from the southwest and a rolling sea.
Onboard Phoenix we felt the left side was going to have more wind so we started to leeward of the fleet. Spookie was to windward and tacked to the right first and Vesper followed shortly there after. We extended a bit before tacking and then it was a foot race to the right. At the first cross, Phoenix was ahead and we kept that lead up to the first mark.
Down the first run, Vesper showed signs of being a bit faster than us but while we were on starboard and in a line, their gains were limited. However, as soon as we gybed, and Vesper as in clear water to windward, they rolled us and took the lead. It was a bit disappointing to see this speed difference.
Spookie was now pretty far behind.
We split from Vesper at the gate that marks the end of the downwind leg. We tacked to starboard to match Vesper out to the left. When Vesper tacked onto port tack, they could not cross us and we're forced to tack back to the left. We protected the starboard tack advantage through a series of close tacks to the windward mark.
We had a 2 boat length lead as we headed down the final run to the finish. Spookie was distant to our battle with Vesper. When Vesper gybed we matched them. Unfortunately for us, the same scenario played out as on the first run. After a few minutes, Vespers superior downwind speed allowed them to pass us.
Vesper crossed the line 1st with us 3 bloat lengths behind and Spookie another 28 seconds behind us in third. Inter lodge  finished 4th today which put us in a tie with them for third for the regatta. We won the tie breaker by virtue of our two first places during the series.
After 8 races, Spookie won the regatta with 17  points, Vesper with 20 and Phoenix with 22. The racing was tight all week and that made it fun.
We on Phoenix feel we made some good strides in getting our program online and competitive this week. We learned a lot about our boat which we will be applying at the next regatta in 10 days time in Edgartown.
For complete results go to:
https://cayardsailing.com/wp-content/uploads/2016/07/image.jpeg
474
700
Paul Cayard
https://cayardsailing.com/wp-content/uploads/2015/01/cs_Logo-07.png
Paul Cayard
2016-07-16 21:30:51
2016-07-16 22:29:43
Rolex NYYC Race Week-Final