Nassau
Day 2 was very good to Phil and I.  With scores of 1, 2, 20, 1 we jumped up to third place in the standings.  We were very fast upwind in the 8-10 knots of wind and able to hold our own downwind.  It has taken a lot of work for us to narrow our deficit downwind but very rewarding.
Our 20th place shows just how easy it is to get a bad score in this fleet.  Once you are back in the pack, the bad air and chopped up water makes life difficult.  There are no soft competitors out here!
We tied Robert Scheidt with 24 points on the day while Diego Negri of Italy had the best day with 22 points.  Phil and I made some adjustments to our rig which suited today's conditions perfectly.
Tomorrow we will most likely have 3 races and the forecast is for less wind again.  Downwind is scorching hot with all the kinetics we are allowed to do in the 80 degrees temps.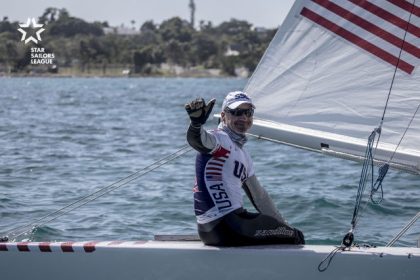 I hope you are enjoying the live coverage in the internet.  if you haven't seen it, tune in at 11:00 EST tomorrow at www.starsailors.com.  There is also a feed on Facebook under the same name.  Complete scores can be found there too,
We check our weight everyday, morning and after racing as we are required to stay under a weight limit.  Interestingly, I lost 3 pounds today.  I  am working hard to rehydrate now and stretching to keep my lower back loose.  Needless to day, I will sleep well tonight!
Paul
You can also follow me on Twitter
https://cayardsailing.com/wp-content/uploads/2017/12/GMo-20171206-SSLFinals2017-122354-2r.jpg
1200
1800
Paul Cayard
https://cayardsailing.com/wp-content/uploads/2015/01/cs_Logo-07.png
Paul Cayard
2017-12-06 15:45:38
2017-12-06 17:49:48
SSL Finals Day 2