St. Barth's Super Yacht Regatta

Photos by Carlo Borlenghi
St. Barths, French West Indies
Today was the final day of racing of the St. Barth's Bucket, the annual Super Yacht regatta down here in the Caribbean.
I sailed as tactician onboard Rosehearty, once again, with my friend Joey Kaempfer and a fantastic team. We trained a bit on Wednesday and Thursday last week and had one race a day beginning on Friday.
The breeze was 18-20 knots from the east for the first two days. A tactical mistake by me on Friday gave us a third place finish, while our rival Perini Navi, Perseus, won the race and Meteor took second.
Perseus, Zenji, Maltese Flacon, and Rosehearty are all Perini Navi yachts from the famous yard in Viareggio, Italy. They are beautiful sailing yachts. Rosehearty and Zenji are sister ships at 56 meters (182′) and 500 tons of displacement. Perseus is 60 meters and Maltesse Falcon is 80 meters. All are exquisitely appointed and also very seaworthy capable of voyages anywhere in the world including the Northwest Passage and Antarctica.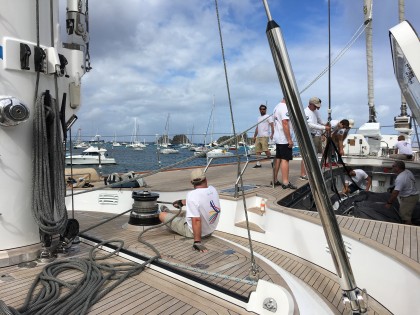 Getting the spinnaker out of one of the forward hatches
Saturday was redemption day for Rosehearty was we got the bullet but not before a match race up the last windward leg, covering a fast approaching "Meteor. Meteor is a classic Schooner design built by Royal Huisman in Holland.
That put Meteor and Rosehearty in a tie for first going into today's final race with Perseus 2 points back in third. Today's course, clockwise around the island, is mostly upwind and favors Perseus so it was nice to have the 2 points on them. But it would be a duel with Meteor. The winds were considerably lighter at 12-18 knots from the east-southeast.
We had a good start and first downwind leg, passing Zenji, who rates just a bit lower and got a 30 seconds head-start on us. On the long windward leg up the north side of the island to the east end, we played the right side, ducking in and out of the small islands on that side, while our competitors went out to open water to the North. We benefited from smoother water and held the lead in our class as we rounded the northeast end of St. Barths. Meteor and Perseus were sailing fast and had closed in on us. Meteor, unfortunately for them, got tangled up in a bit of traffic and had to take another tack out to sea when we fetched the top of the island.
Perseus, closed to within 4 boats lengths as we round the last mark of the course. Our spinnaker set was perfect and theirs was not. Chapeau to the crew of Rosehearty! They make those of us up in the flybridge look good.
We pulled away from Perseus but Meteor continued to bear down on us sailing lower and faster. Perseus finally got their spinnaker set and started to come back into us a bit. We were never overly concerned about Perseus as we could afford to finish one place behind them and still win the regatta. What we could not afford to do was to be passed by Meteor. On the final maneuver of the race, Perseus' spinnaker exploded as we both gybed for the finish. Meteor kept closing. It was a bit tense onboard, everyone wondering if Meteor would catch us. About one mile from the finish, it was clear that Meteor would run out of race track. Rosehearty ran down to the finish to take the win on the day and overall in our class.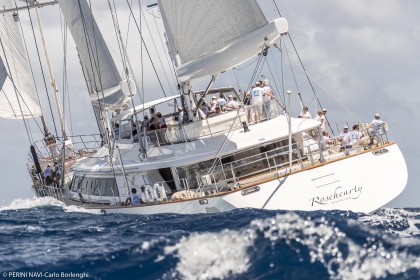 This is the third time we have won our class in the Bucket on Rosehearty and it was clearly the toughest as the other teams are improving each year.  While we will be enjoying the win for a while, we will have to step up our game for next year.
I will be transiting to Sydney over the next 40 hours to race with the Beau Geste team in the Australian IRC national Championship starting Thursday.
Paul
https://cayardsailing.com/wp-content/uploads/2017/03/St.-Barths-Bucket17cb-06859.jpeg
994
1500
Paul Cayard
https://cayardsailing.com/wp-content/uploads/2015/01/cs_Logo-07.png
Paul Cayard
2017-03-19 22:40:46
2017-03-19 23:18:24
St. Barth's Super Yacht Regatta