Star World Championship-2017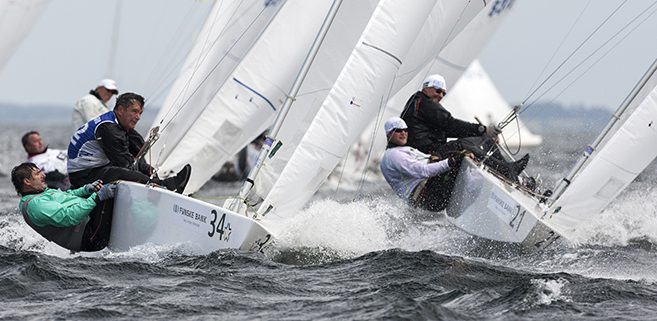 Stars nearing the windward mark with crews hiking over the side to hold the boat upright.
Troense, Denmark
The 2017 Star World Championship kicked off today with the first race in 15-23 knots of wind and cloudy skies.  The conditions got a bit gusty as the race progressed and 7 boats lost their masts. Unfortunately for us, we were one of them.  We submarined near the end of the second downwind leg and the mast simply imploded.  Yes, that is expensive.
I am crewing for my son Danny who is racing in his first Star World Championship.  It is fantastic to have the opportunity to be together in this race.  This is my 40th year racing Stars and to sail with my son, in his first World Championship, is an opportunity not to be missed.  His grandfather Pelle Petterson, World Champion in 1969 arrived today to support the team.  Pelle bought dinner tonight proclaiming we had already spent too much money for the day.
The Star World Championship course is rather long for these boats and featured 3 x 2 mile windward legs and 2 x 2 miles downwind legs, for a total of 10 miles.  It was pretty physical out there so everyone will sleep well tonight.
For those of us with broken masts, we just got done putting in a new mast at 8:00 pm.
Up front, Lars Greal and Samuel Goncalves BRA, 2015 World Champion led wire to wire but only just held off a strong charge by Dr. Hubert Merkelbch GER  Brian Fatih right at the finish. Third place went to Reinhard Schmidt and Paul Sradnick of GER.  Elvind Melleby and Josh Revkin sailed a good race to claim fourth place.
This was one of those races were the top 20 were racing and most of the rest of us were surviving…or not. There are 76 boats entered. I'll get the number of countries tomorrow.
The Championship will consist of 6 races and each competitor will discard their worst score.  This a nice feature for something like today but its a bit early to use your mulligan
Paul
https://cayardsailing.com/wp-content/uploads/2017/07/image1.jpeg
438
657
Paul Cayard
https://cayardsailing.com/wp-content/uploads/2015/01/cs_Logo-07.png
Paul Cayard
2017-07-02 13:12:39
2017-07-02 13:12:39
Star World Championship-2017