Star World Championship-Day 2
photos by Mark Hergen
Oxford, Maryland
First of all, let me apologize about last nights' post.  My technological skills are not up to par.
Two races were held today on the Choptank ( yes, that's the name of the part of the Chesapeake we are in) in a dying, but persistently left shifting wind.
In race three, it was the Melleby and Zarif show again as they went 1, 2. Zarif got the win this time. I made a mistake up the first leg tacking to the right while sailing next to Melleby heading left. The left was the place to be and we got to the first make in the teens. From there we managed to claw our way back to 8th. We seem pretty fast fortunately which helps when you are not smart. Augie Diaz had a nice race finishing 5th to close the gap to us after three.
The wind continued to drop further for Race 4. After a couple of general recalls, the fleet got away under a black flag. 6 knots was all that we had and by the finish, it was down to 3 knots. Those are trying conditions.
I can't remember all the ups and downs. It was very difficult and tricky. We were at huge risk of losing 20 boats at one point up the second windward leg. All I know is that I had my Notre Dame hat on and felt the luck of the Irish with me. (Yes, I drank the Koolaid?) Arthur and I managed to come away with the win!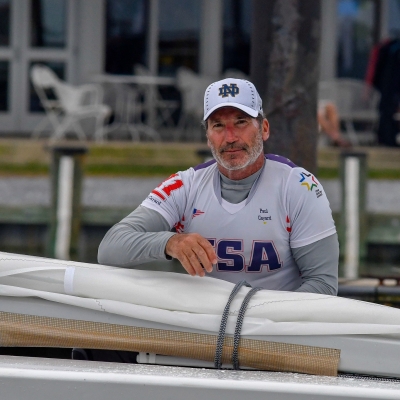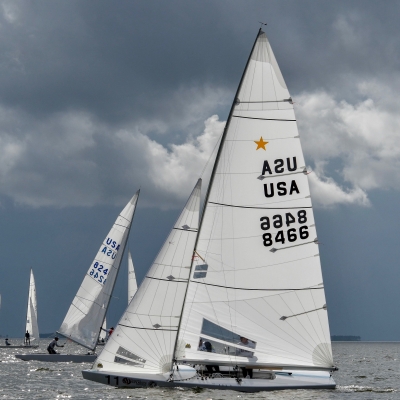 In after hours racing, Melleby/Revkin were disqualified from race 3 for not avoiding a collision with Zarif. By virtue of that, Arthur and I are 2nd overall behind Zarif.
The regatta is back on schedule. Tonight, hurricane Michael will pass through the region. 40 knots are forecast for 05:00 tomorrow morning. All boats were taken out of the water. The start has been postponed by 2 hours. Looks like we will race and it will be fun to have one breezy race.
For complete results go to: https://www.regattatoolbox.com/results?eventID=66N5cTLxgd
Paul
https://cayardsailing.com/wp-content/uploads/2018/10/Day-2-PC-and-tutu.jpg
1152
1728
Paul Cayard
https://cayardsailing.com/wp-content/uploads/2015/01/cs_Logo-07.png
Paul Cayard
2018-10-11 17:57:16
2018-10-11 17:57:16
Star World Championship-Day 2