photos by Andrea Francolini
Sydney
After four days of racing and a mix of conditions, Team Beau Geste came out on top of the Australian National Championship.  It was an honor to sail with Karl Kwok and his team.  I have known Karl for many years dating back to the Admirals Cup days in the 90's but never sailed with his Beau Geste.
Gavin Brady, who runs the Beau Geste Team, invite me to be the helmsman for two series down here in Oz. Gavin and I sailed together on AmericaOne in the 2000 America's Cup and again on Money Penny in 2008.  It was fun to sail together and the results were there too so that made it even better. There was a great crew, including long time friend and teammate at Oracle and Artemis, David Brooke, who are regulars on Beau Geste and it was a pleasure to race with them as well.
Beau Geste is a TP52 that is optimized for the IRC rule.  This means it is slightly different than the Super Series TP52's I sailed on last summer. The mast is slightly taller and we sailed with 15 crew instead of 12.
We had a mix of conditions from 18 knots and big waves on the first day to 7 knots today.  Beau Geste dominated the first two days of racing in the stronger winds. Interestingly, one of our competitors was a canting keel 66′ designed by Reichel-Pugh name "Alive".  This boat was very tough to beat in todays' lighter conditions.
Through it all we won the series rather handily. This marked the fourth time in a row that Beau Geste has won the Australian National Championship for IRC racing. They obviously have this figured out so I was just happy to be along for the ride.
I am headed back to San Francisco tomorrow and will sail next in Miami for the Star Western Hemisphere Championship, April 6-9.
Paul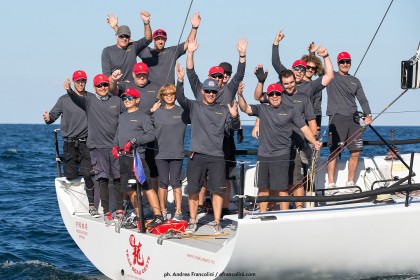 https://cayardsailing.com/wp-content/uploads/2017/03/IRCchampionship2017_AFrancolini_0083a.jpg
1000
1500
Paul Cayard
https://cayardsailing.com/wp-content/uploads/2015/01/cs_Logo-07.png
Paul Cayard
2017-03-26 10:26:44
2017-03-26 11:54:17
Australian IRC National Championship