Photo by Kathleen Tocke
Coconut Grove
Races 7 & 8 of the Star Midwinter regatta were held today in perfect Star Sailing conditions of 12-14 knots from the southeast. Warm air, warmer water, nice waves for surfing downwind and plenty of sunshine.
Irishman Peter O'Leary and his brother Robert sailed steadily, never finishing better than third in any one race, and won the regatta with 46 point. Josh and I finished strong and moved up to second place with 60 points in this regatta. By virtue of moving up today, we won the Star Winter Series. The Star Winter Series is the cumulative score of 5 events starting in November and concluding in February. I had two crews sailing with me over four of the five events; Magnus Liljedahl and Josh Revkin. Both are great Sailors and even better friends.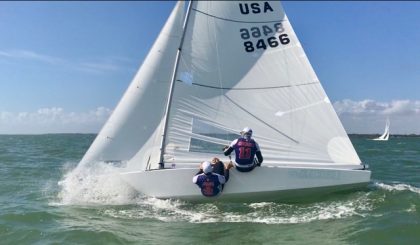 Eric Doyle won both races today and moved up to third place with 62 points passing Augie Diaz and Bruno Prada. Josh and I were fast and had a 5, 2 today while Augie Diaz and Bruno Prada had a 3, 17 to finish 4th.
The racing was very tight and the lead changed hands several times in all races. Eric Doyle rounded the last mark of the final race in 5th and managed to grab the win.
For complete scores go to www.yachtscoring.com
The next even is Bacardi Cup, March 5-10.
Paul
https://cayardsailing.com/wp-content/uploads/2018/03/28B55694-FE62-4C50a.jpg
830
1135
Paul Cayard
https://cayardsailing.com/wp-content/uploads/2015/01/cs_Logo-07.png
Paul Cayard
2018-02-11 13:52:33
2018-03-06 07:36:31