Artemis back on their game!
Bermuda
The wind was back today on Great Sound! 15 knots of wind from the South greeted the competitors and four races were held.  Different to other days, the wind was steady in both direction and velocity across the course. This made the racing less volatile and relatively tame.  All teams were on their high speed boards. In each of the four races, the team that won the start, led the entire way.  There were no lead changes; something that we had gotten used to and love to see.
In race 23, NZL to leeward, controlled Japan at the start, and sailing very smoothly, stretched their lead bit by bit to win comfortably.
In race 24, Artemis (SWE) hooked Oracle in the prestart and led off the line and throughout the race.  Artemis looked solid and back on form as they handed the American's just their second loss, both at the hand of the Swedes.
Race 25, FRA was up against NZL. This was a must win for the French who got a bit unlucky at the end of the race yesterday against the Brits. NZL controlled the start and stretched on every leg to win very comfortably.  This race eliminated the French from the Challenger series.  It is always sad to see a team eliminated but that is the nature of sport and the French can be proud of winning races off BAR and Artemis.  This, very low budget, program put a lot of heart and soul into their campaign and they have a good launch pad for next time.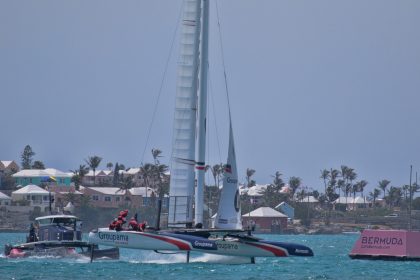 France on their way home
Race 26.  This was expected to be an important and big showdown between two strong teams. Once again, Nathan Outteridge controlled the start and led the entire way.  The Japanese did seem a bit quicker than the Swedes upwind, but the Swedes employed classic match racing tactics, blocking the wind of the Japanese each time they tacked.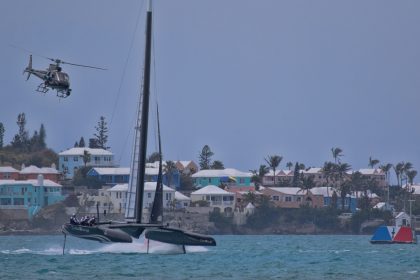 Japan is on just 3 wins.
After 26 races, the Kiwis are on top of the leaderboard with 8 wins while Oracle has 7, BAR on 5, Artemis on 4, Japanese on 3 and French on 2.  Whichever team wins this round will take a one point advantage into the Cup finals.  Tomorrow ETNZ and Oracle do battle in the first race of the day and the winner of  that race will determine the winner of this qualification series and the one point.
For stories and complete results, go to: www.americascup.com.
Paul
https://cayardsailing.com/wp-content/uploads/2017/06/Day-7-Sweden.jpg
1366
2048
Paul Cayard
https://cayardsailing.com/wp-content/uploads/2015/01/cs_Logo-07.png
Paul Cayard
2017-06-02 21:27:50
2017-06-02 21:27:50
America's Cup 35