Last Call for a 2014 Silver Star!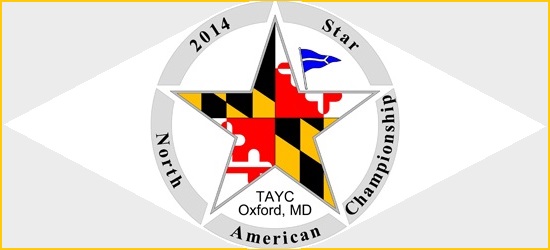 The Battle Begins Tomorrow, Who Will Be the Last Man Standing?
Oxford, MD 07 October 2014
On Wednesday October 8, forty two Star teams representing 5 different nations will hit the race course and contest the final Silver Star Championship title of the year: the 2014 International Star Class North American Championship hosted by the Tred Avon Yacht Club in Oxford, Maryland.
As we have come to expect of International Star Class Championships, this event will be attended by a uniquely elite and diverse group of sailors with several of the top athletes not only in the Star Class, but in each of their respective regions and in the sport of Sailing in general. Among the competitors this week are 2 WINNING Volvo Ocean Race Skippers, 3 Former Americas Cup Participants, 7 Olympic Champions in the Star including 2 Olympic Medalists, 3 International Star Class World Champions, 10 International Star Class Silver Star Champions, as well as 15 International Star Class District Champions, just to name a few although this barely covers 1/4 of the Fleet's full list of cumulative achievements.
Needless to say, the level of competition will be extremely high, the racing will be close all the way through and with the rigorous Silver Star Championship format, the Star sailors certainly have their work cut out for them. The 7 race series is scheduled across 4 days, First Warning will sound no earlier than 1100hrs EST each morning, no more than 3 races are allowed to be held in a single day and courses will be set between 5 and 7 nautical miles in length total.
Championship media coverage will be provided online via the International Star Class's Facebook and Twitter accounts for all live updates from the race course, the International Star Class website for live race-by-race results during each day, the 2014 International Star Class North American Championship Website, and through daily press releases. All of the available websites are linked below and the remaining URL's will be distributed as they become accessible.
Laura Beigel
Comm., Media Relations, & Marketing Director
Event Website: www.starnorthamericans.com
Current Entries: http://bit.ly/1nYdw6E
Event Sponsors: http://bit.ly/Zbp3mY
https://cayardsailing.com/wp-content/uploads/2014/10/NAStarChamp14.jpg
250
550
Cayard Sailing
https://cayardsailing.com/wp-content/uploads/2015/01/cs_Logo-07.png
Cayard Sailing
2014-10-08 13:38:38
2014-10-22 14:45:20
Last Call for a 2014 Silver Star!