TP52 World Championship 2016

Photos Max Ranchi
Mahon, Menorca
Two races were held today off the east coast of Menorca. The wind in the first race was 8 knots from the Southwest and the second race had 16 knots from the Northeast.  There was a big wind shift between the two races and the Race Committee did a good job being patient and waiting for the front to pass and the wind to settle.
In the first race, I made a mistake I will regret for a while and its a mistake I have made before.  I started over early with the black flag enforce. It was self inflicted as I had the leeward end of the line won and it was just up to me to decide when to pull the trigger.  So we were disqualified at the start.
There was a big split in the fleet with Azzurra heading hard right and the group we were in, including Quantum, to the left.  The right won out and Azzurra sailed a great race to win easily. Quantum showed incredible ability to come back and finished 2nd after being 6th at the first mark.
After the front went through and we all changed mainsails, the second race was underway around 16:00 in 18 knots from the Northeast. The swells were huge…2 meters +. It was a difficult condition to keep the boat moving fast.
There was one general recall then two black flag starts.  This time Quantum got caught by the black flag so they were immediately disqualified.  Unusually, the race committee flew a general recall at that black flag start.  More unusually, the race committee only called one boat over early, that was Quantum.  Anyway, the next start was also black flag and the start was all clear. We had a decent start, albeit conservative given what I had done in the morning and we were off.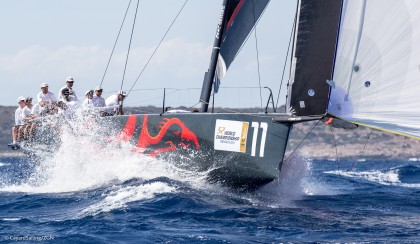 At the first mark, Baronosec was the early leader with Azzurra second.  We on Phoenix rounded that first mark 6th and were were about the same at the bottom gate.  Up the second windward leg, we sailed fast and passed two boats to round the second windward mark 4th.  Down the last run we passed Baronosec to finish 3rd.  Azzurra won both races today!  Downwind on port gybe there was some great during opportunities and we topped out at 18 knots of boat speed in the 17 knots of wind.
Of course the Black flag didn't help our efforts here.  We will once again be looking to move up tomorrow.  Two races are scheduled with the first race at 12:00.  The forecast is for 6-12 knots from the north.
For complete results go to: www.52superseries.com
Paul
https://cayardsailing.com/wp-content/uploads/2016/09/Phoenix-Day-4-upwind.jpg
933
1400
Paul Cayard
https://cayardsailing.com/wp-content/uploads/2015/01/cs_Logo-07.png
Paul Cayard
2016-09-17 20:18:54
2016-09-17 20:19:06
TP52 World Championship 2016