TP52 World Championship 2016

Photos by Nico Martinez
Mahon, Menorca
Day 5 provided the fleet with races 9 & 10, both in a huge seaway of 2-3 meters from the north.  The wind in the first race was north northeast between 10 and 14 knots and the wind in the second race started at 16 knots and dropped to 6 knots.  It was anything but straight forward out there for both tacticians and sail trimmers.
In race 9, the Italian Azzurra team ran their streak to 3 straight first places, making a serious run at Quantum's grip on the World Championship Trophy.  Quantum finished 5th and Phoenix 6th.  Their were large oscillating wind shifts that had to be played.
We all changed mainsails again for race 10 with the slight uptick in breeze.  We, on Phoenix got off to a good start and never crossed behind anyone.  We went most of the way left and played a few shifts near the top to seal our lead. Alegre was our closest competitor for the entire race.  Down the last run the wind all but died and with the huge seaway, things were once again, anything but straight forward.  Peter Holmberg, our tactician, did a nice job of managing our lead and we crossed the line first for our first win in Super Series Racing.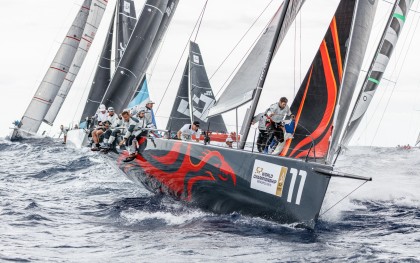 In the last three races we on Phoenix finished with scores of 3, 6, 1.  It was the best score in the fleet over the last 30% of the regatta. Obviously we feel good about that and all that we are learning.  It has been great value to us to be here amongst all these strong teams.
We finished 9th which is lower than I expected but there is a lot to getting good scores in this fleet.  The sails have to be right, the mast has to be right, the interaction between helmsman and trimmers through al the conditions, the shore team maintains the boat, the data collection and analysis has to be effective, the tender support has to work efficiently, and of course you have to sail very well. I think it is safe to say that the 52 class has the best big boat racing in the sport of sailing now. There are no soft teams out there and this makes the racing challenging and satisfying. The crews are all elite sailors and the quipment is pushed to the highest levels. It's fun to be amongst it all!
The next event for Phoenix will be the TP52 Super Series at Cascais, Portugal, October 9-16.
Next for me is the J70 World Championship in San Francisco in about 10 days with Calvi Networks.
For complete results go to: www.52superseries.com
Paul
https://cayardsailing.com/wp-content/uploads/2016/09/image-1.jpeg
933
1400
Paul Cayard
https://cayardsailing.com/wp-content/uploads/2015/01/cs_Logo-07.png
Paul Cayard
2016-09-18 19:53:41
2016-09-18 22:42:28
TP52 World Championship 2016