Photos Marco Oquendo
Coconut Grove
Three races were scheduled but only two races were held today on Biscayne Bay before the wind pipped up ahead of a front that will hit Miami tonight.
The first race started at 10:30 in 12 knots from the southwest. Josh and I had great speed and got to the first mark second. Alberto Zanetti of Argentina, with Mark Stube crewing, led and held the lead down the first run. On the second windward leg, our speed showed through and we grabbed the lead and held on down the run to the finish.  Charlie Buckingham, (little Buck) sailing with Austin "Hoss" Sperry, sailed very fast on the final run to pass Zanetti and finish second. George Szabo finished 4th, Jim Buckingham (Big Buck) finished 5th and Augie Diaz, the regatta leader, finished 6th.  Things were tightening up.
In the second race we had a bad start and had one of our competitors tack on us right as we tacked to clear our air coming off the line.  We then got tangled up with another boat in an unfortunate situation. We did a penalty turn. Needless to say, at this point we were deep.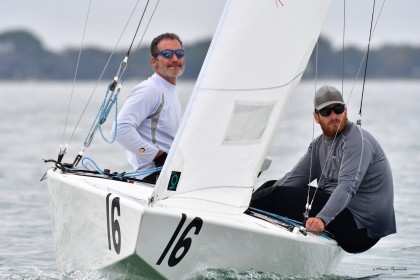 Jack Jennings and Frthijof Kleen sailed fast the lead at the first mark.  Diaz and Zanetti were up in the front with the Buck Family.  We sailed fast and rounded the first mark about 10th and passed a couple more boats down the run and up the next windward leg to round the last mark 4th.  Our speed upwind in the freshening breeze was excellent.  Down the final run I stuck the bow into a couple of waves and filled the boat top with water.  This ultimately cost us Big Buck and we finished 5th.  Jennings and Kleen won the race with Zanetti second, Diaz third, Big Buck 4th, Josh and I 5th and Szabo 6th.  The Race committee called it for the day as a couple of boats had lost their masts on the final lap.
We are in 4th place at this point. Tomorrow, two or three races could be sailed however the forecast is for very strong wind.  Unfortunately Josh and I won't be racing anymore in this regatta as I am headed to Italy tonight to make a speech on Monday in Napoli.
For complete results go to www.yachtscoring.com
Paul
https://cayardsailing.com/wp-content/uploads/2017/01/IMG_6431.jpg
1792
2687
Paul Cayard
https://cayardsailing.com/wp-content/uploads/2015/01/cs_Logo-07.png
Paul Cayard
2017-01-07 21:40:37
2017-01-07 23:16:04
Star Midwinter Championship