Eivind Melleby and Joshua Revkin, 2017 Star World Champions
Troense, Denmark
The final race was held in a 8 to 16 knot Westerly under sunny skies. The showdown between Eivind Melleby and Lars Grael materialized as Grael took the early lead and Melleby struggled to stay in the top 10.  Hubert Merkelbach, Diego Negri, Reinhard Schmidt and Johannes Polgar all over took Grael while Melleby moved up to 8th. In the end the math worked in favor of the 45 year old Norwegian and his 27 year old crew Josh Revkin of the USA.  They are the new Gold Star winners.  The also won the newly awarded Paul Elvstrom trophy for the team that won had the best score without a discard. Trine Elvstrom, daughter and Olympic crew in Los Angeles in the Tornado class, presented the trophy.  Paul Elvstrom won his second Star World Championship 50 years ago in Copenhagen.
Danny and I had a decent race finishing 31st.  Our combined weight (390lbs) is just too light to be competitive.  There is a reason there is a maximum weight limit (about 440lbs) in the Star Class.  Weight is fast!  We were slow upwind and that is especially tough on the first leg of the course right after the start.  Danny had us going very fast downwind but not enough to compensate. Our goals for the week were to sail together, have fun and get Danny some big fleet Star racing experience…in that order.  We did all that.  We spent a bit more money on masts than we hoped to, but that's racing! I think Danny truly likes sailing the Star and will be racing for years.  I think I may have done my last race as a Star crew.  Putting it politely, my body is a little bit sore.
After racing, it was the big pack up of the boat and all the equipment then the prize giving dinner which was held in a local gymnasium….not the most Scandinavian of experiences.  The local fleet put in a huge effort with 80 volunteers to put the regatta on.  The fleet in Denmark has been small in recent years and hosting the Worlds grew the fleet to 15 boats.  Part of awarding World Championship venues is fleet building for the longevity of the class. Next year's World Championship is in Oxford, Maryland.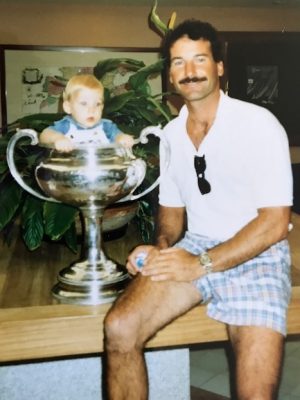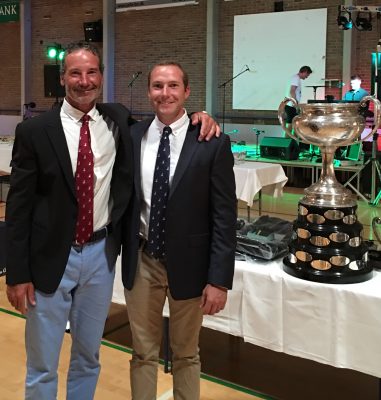 Then (1989) and now.
Danny and his girlfriend Evan are driving the boat we chartered back to Berlin and then will go to Gothenberg to stay with his grandparents and cousins.  I am on my way back to San Francisco which I am really looking forward to. I have been living out of a suitcase since May 25.  That's long even by my standards.
Paul
https://cayardsailing.com/wp-content/uploads/2017/07/Eivind-and-Josh.jpg
2462
2659
Paul Cayard
https://cayardsailing.com/wp-content/uploads/2015/01/cs_Logo-07.png
Paul Cayard
2017-07-09 04:53:12
2017-07-09 04:53:12
Star World Championship 2017