photos by Zerogradinord
San Francisco
Two races were held today on Berkeley Circle for the J70 fleet. The first one was in non-planing conditions of 8-12 knots and the second had winds of 15-20 knots.
It's impressive how competitive the fleet is.  Yesterday's convincing winner, Flojito, scored a 20 and 10 today.  Judd Smith who is third overall scored a 19, 1 today.  Claudia Rossi (ITA) is the most consistent; other than her 15th in the first race, she has been in the top 5 each race but has yet to win one. She is now leading with 19 points.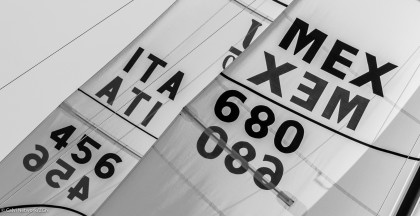 Today's winner was Joel Ronin in his Catapult with John Kostecki calling the shots.  The score a 1, 3 and are now in second place overall, 2 points behind Rossi.
There was actually a third race today that was abandoned at the half way point when the race committee realized the course had been set with 20 degrees of error.  In this race Ronin and Smith were 1, 2 which is nearly identical to how they scored in the re-run of the race so justice was served there.
The top 5 are starting to shape up and with 5 races to go, any of them could win.  Rossi is both fast and getting good starts so she is going to be tough to beat.
Onboard Calvi Network, we had an ok day.  In the first race we made a nice comeback to finish 5th.   In the second race of the day, I took us to the left side of the course looking for the early ebb current coming out of the South Bay but the right hand shift outweighed the current.  We rounded the first mark about 15th and only managed to come back to 11th.
We are in 4th place overall, 10 points out of first.  With 5 races left, there is plenty of opportunity to move up and down the scoreboard.
Tomorrow's schedule has three races planned. The forecast is calling for 15-20 knots.
For complete results go to: https://www.regattatoolbox.com/results?eventID=klcyTZvX7U
https://cayardsailing.com/wp-content/uploads/2016/09/CalviNetwork_280916_low-15.jpg
1187
2000
Paul Cayard
https://cayardsailing.com/wp-content/uploads/2015/01/cs_Logo-07.png
Paul Cayard
2016-09-30 02:12:19
2016-09-30 02:14:45
J70 World Championship-Day 3